Cabinet Vision 12 was just released by Hexagon, last month I believe.  That was October 2019.
My first impression is...I like it.  I like it a lot.   
But let's start at the beginning...upgrading from Cabinet Vision 11 to Cabinet Vision 12.
If you've ever started the process of upgrading or reinstalling, you know there's potential for "Roadwork Ahead".  However, in my case, the upgrade went as smooth as it could have gone.  The PC I installed CV 12 onto is a basic 6 year old Windows desktop computer running Windows 10 Home.  i5 3 GHz processor, 8 GB RAM... this box is no hot rod.  But I had no errors, no pauses or re-starts necessary.  Just pay attention to the dialog box questions and select an appropriate answer.  The upgrade will ask you if you'd like to include your construction methods, and material schedules and UCS's, and libraries etc.  I said "yes" to all the above. 
Just as a side by side comparison of CV 11 and CV 12, there are a few things that jump out.
The product logo splash screen has been re-designed and no longer remains as the default image on the 'home' screen.  This redesign probably opens the door to a little confusion because with previous versions of Cabinet Vision, Hexagon/Vero/Planit referred to this main/home screen as the "Splash" screen.  Just to add to the confusion, I'm calling this the Home screen.  This sans-artwork design makes for a cleaner look, in my opinion.  I'm told you can customize the home screen by applying your own image to the home screen but I haven't yet figured out how to do that.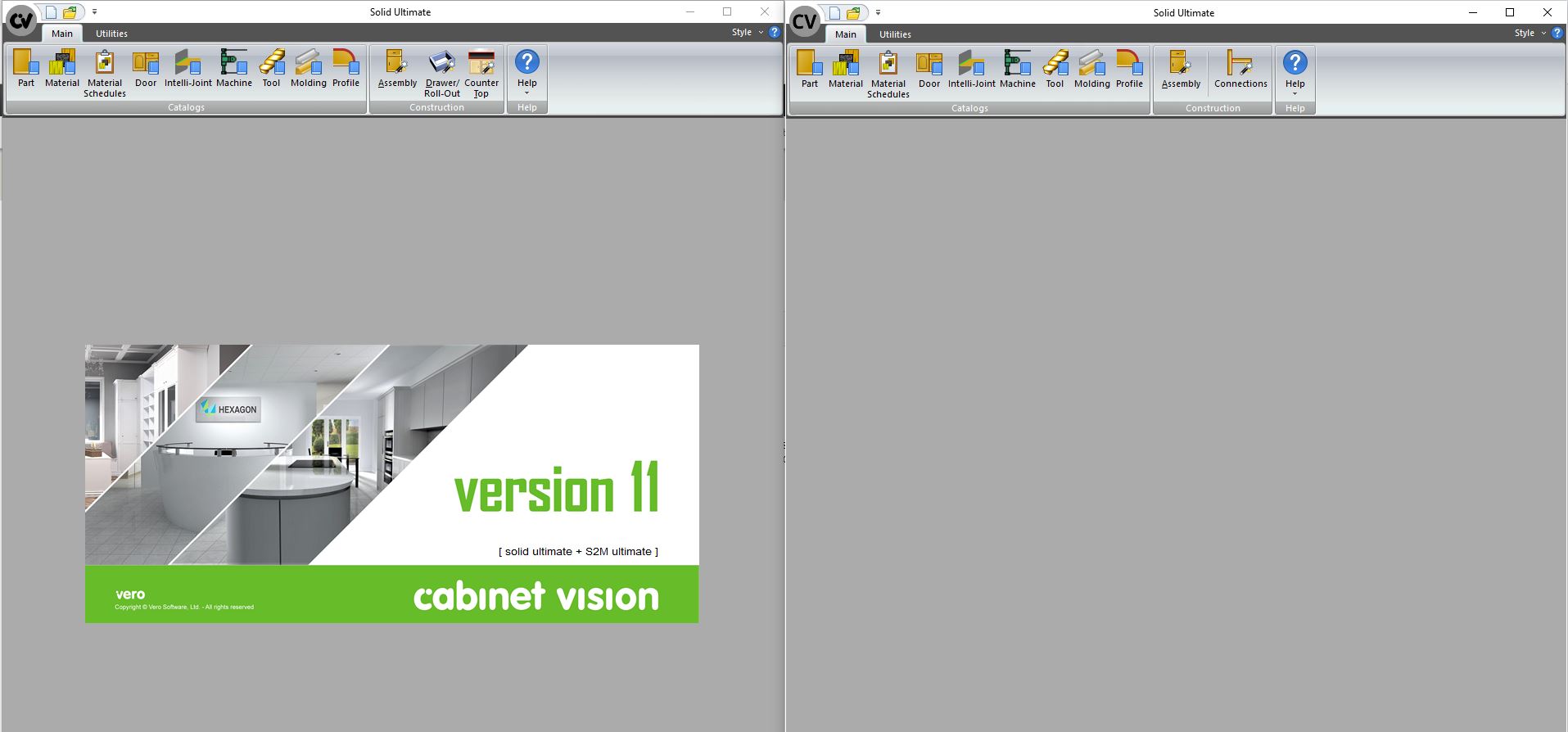 The Main menu bar has a new look with a few new buttons and a few buttons that are no longer on the bar.

Cabinet Vision 12 now features a new "Connection Manager" and is the new button on the block.  Pressing the Connections button on the Construction section of the menu bar will open the new Connection Manager.  The old buttons for Drawer/Roll-Out and Counter Top have been rolled up into the new Assembly Manager.  
Hexagon has produced a series of videos which highlights all the new features so I'll piggy back on their videos as I move through this un-boxing.  Those videos are available on the Hexagon website, on YouTube and here on the Craftsman Engineering website.  I've included links below to all those videos. Just click on the header to go to the video for that section.   
Connection Manager
At the time of this video, I'm using Build 296.  And with this build, the Connection Manager looks a little different than the Connection Manager in the video Hexagon made.  It looks like the image below in Build 296.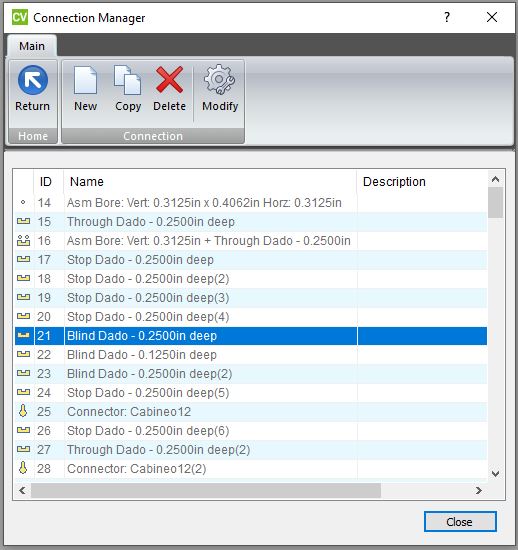 When you double click on one of the line items, another dialog box opens which looks like the wizard interface we're all familiar with.  Only the questions or Standards refer to types of connections....boring, connectors, dados, etc.  The list contains duplicates of most connections.  Consequently, you can modify one of the existing connections or copy an existing one and modify that new one to suit your needs.  
It's a new way of thinking about connections but I find it to be more elegant, intuitive and more useful than the old method.
Backup Interface Redesign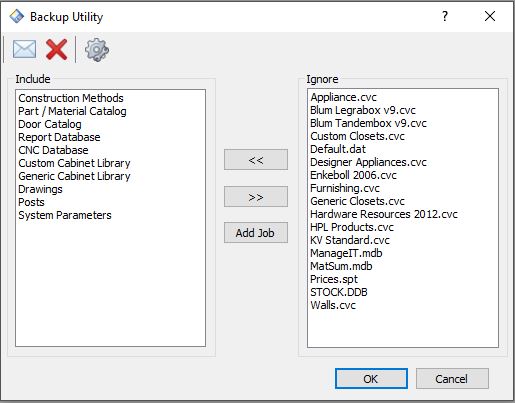 Hexagon redesigned the backup utility.  It is a sensible and well designed interface, in my opinion.  Two bits of advice though... one, use it at least once a week.  Put it on your calendar to do a manual backup...of everything.  And, two, keep copies of those backups on another PC or storage device like a thumb drive or use a cloud based backup system like Google Drive, AWS, Dropbox....whatever.   
Intelli-Joints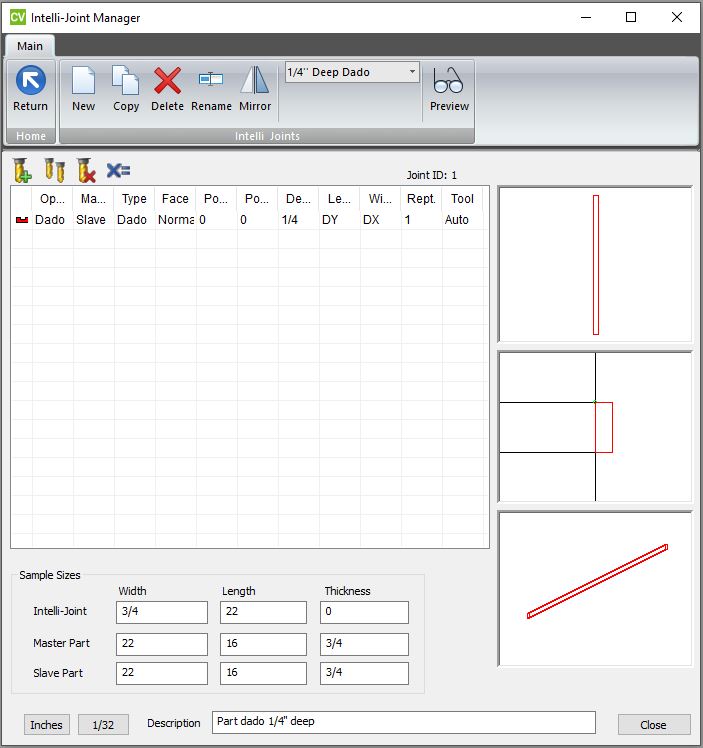 The new Intelli-Joint Manager resembles the old Intelli-Joint Catalog but adds a few useful features.  I like Hexagon's thinking as they "rebrand" the interfaces.  The notion of a 'wizard' is so Y2K.  
PO Field 255 Characters
I can't really add so much to this.  I guess there were a lot of requests to expand the PO field.  At least your PO's can have more meaning full names now.  
UCS's - New Interface and Save Option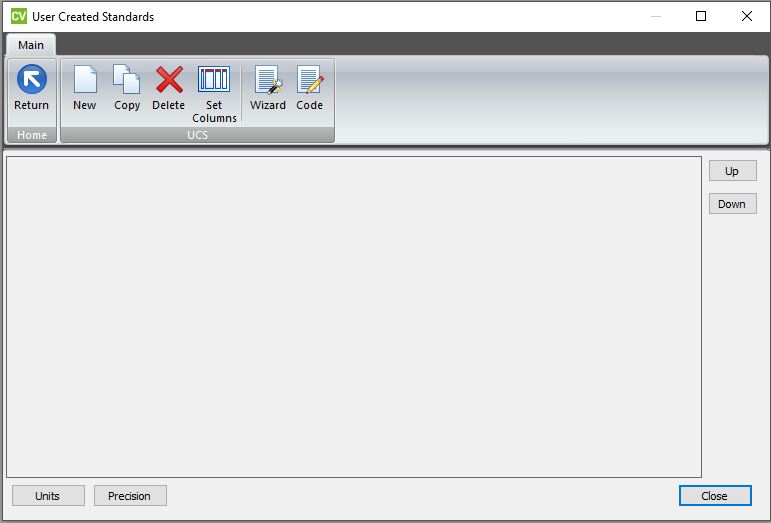 I know what you're thinking...where's all my UCS's?  That was my first thought as well.  As it turns out, I think there is a minor bug which affects the display of all the UCS's.  If you expand the dialog box to full screen, all your UCS's will display correctly.  Even when you revert back to a small window, your list will stay persistent.  Other than that, you can do some cool stuff now like saving your code right in the code editor.  For those of you who fiddle with writing UCS's, you know what a hassle it was to write all your code in Notepad ++ for example and then copy to Cabinet Vision.  
Room Selection in Elevation

This is one of those things that makes me wonder "What took them so long?".  Adding a simple feature like this reduces the number of clicks per hour from 7,344 to only 5,980.  By the end of the day, my button clicking finger could use a nap.
Cabinet Vision 12 includes a room selector inside the Elevation tab.  No longer will you have to click on the Plan tab to change rooms.  
Material Manager - Pull Center to Center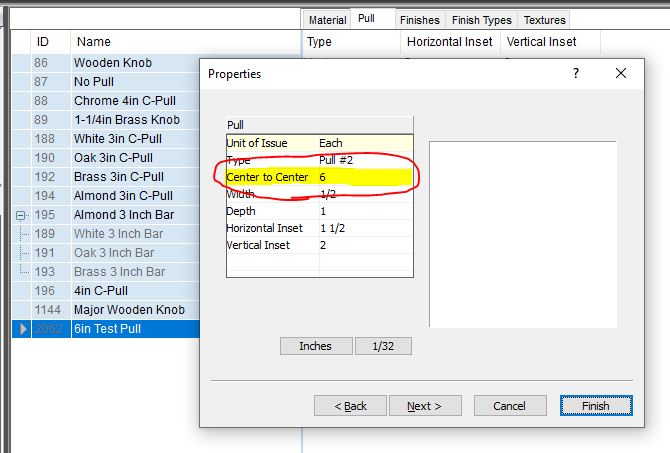 Also new in Cabinet Vision 12, in the Material Manager is this new field "Center to Center".  This field is visible on the Properties dialog box when creating a new material of type Pull.  In other words, you can see it when you create a new pull in the Material Manager.  The variable is referring, of course to the distance, on center, between the mounting holes of the new pull.  I think this is only a nice start.  And the reason I say that is because I can't find anywhere in Cabinet Vision 12 where that new field is presented or where it's applied in a practical way other than visually.  At the very least, I'm going to include the dimension in the names of pulls and on the Material Schedules I add the pulls to.  Just as a note to self - I think there is an opportunity here to make a UCS with attributes that display the Center to Center dimension.   
Job Properties - Door Schedule Search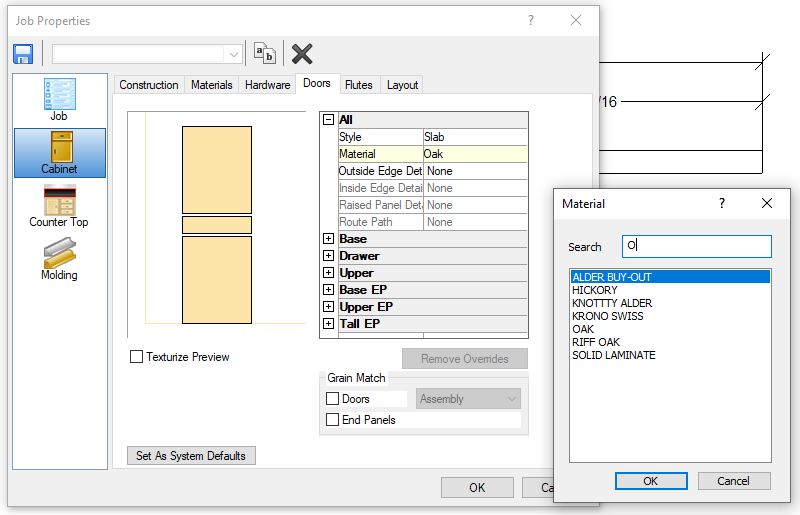 Under the category of mis-named improvements is this Door Schedule Search.  It's really not a Door Schedule search at all.  Instead, its an improved Material Search under the Doors tab in Job Properties.  
Display Route Toolpath's Tool Direction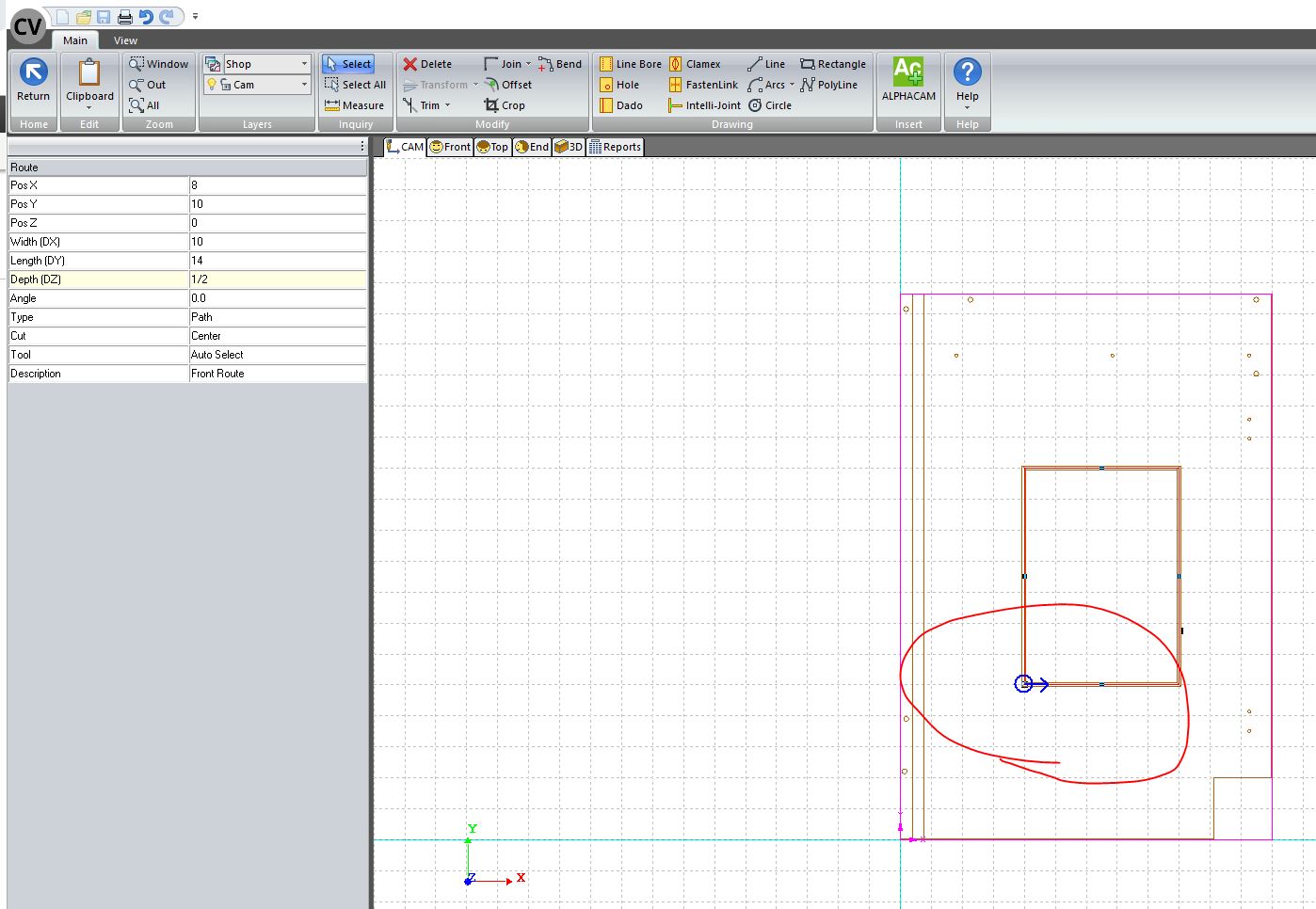 This feature is a welcome improvement.  You can now see an indicator that shows the direction of the tool.
Comments Word Wrap and Radial Menu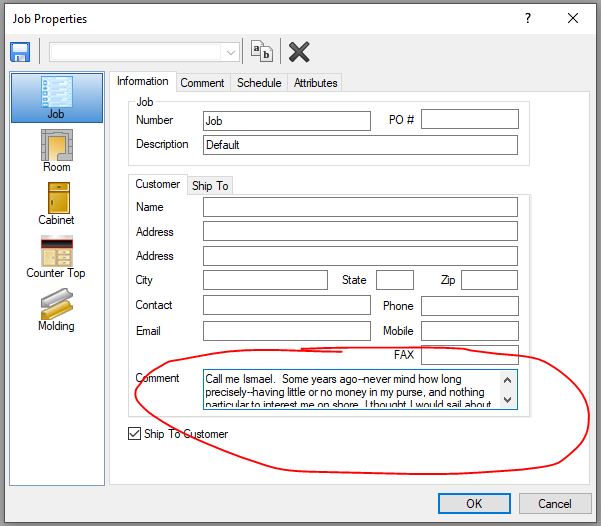 For those of you who wish you could write a book in the Comment field, you now have cause for celebration.  Word wrap is now a feature of the Comment field on the Job Properties dialog box.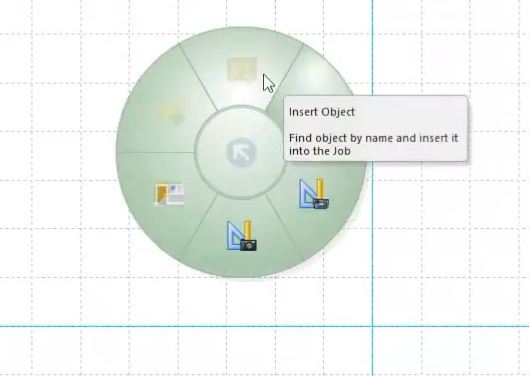 I'm still on the fence about this one.  This is the new Radial Menu.  Personally, I'm not using it because I'm just set in my ways.  But, maybe for someone new to Cabinet Vision and who attaches emojis to every text, you're probably right at home with this.  You can turn this on and off via the General tab in Preferences ( under the CV button ).  If you leave it off, you still have the menus you're already used to when you right click.  If you turn it on, you'll get some flavor of this radial menu with graphical representations of actions you can take appropriate to the 'right click scenario' when you right clicked.  
Assembly Manager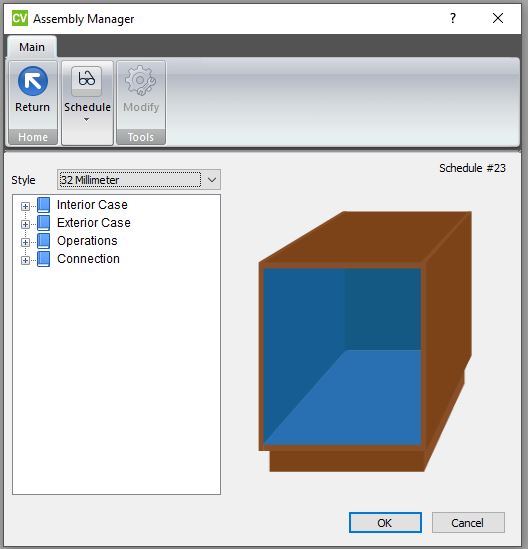 This new Assembly Manager gets the Biggest Bang for the Buck award in this new version of Cabinet Vision.  I'd encourage you to watch the Hexagon video ( by clicking on the header above ).  There's a lot of ground to cover here.  Essentially, all the assembly methods for all types and classes of construction have been rolled up into this new Assembly Manager.  In addition to the usual Interior Case, Exterior Case, and Operations categories you're used to in a cabinet assembly method, the Connection category has been added.  In my opinion, its very well done.  If you've been using Cabinet Vision for years this may take a little getting used to, but I think you'll be pleased with the thought that went into this.
There are a few more videos available to check out below.  I haven't even touched anything about the S2M Center in this Unboxing of Cabinet Vision 12.  I've provided links to those videos below.  
Assembly level - Hide Legs
S2M Center - Intelli-CAM Operation Order Includes Mitres
S2M Center - Nesting - Square Off Nest Per Machine
S2M Center - Machine Catalog - Machine Sets Banding Control
S2M Center - Radial Menu
All in all, I think Hexagon did a great job.  Like any new releases of software there's bound to be a few bugs here and there.  If I were to rate this new version, I would give it 4 of 5 stars for those of you who rate everything on the Star System.
If you'd like to learn more about purchasing or upgrading Cabinet Vision, contact Hexagon or your Cabinet Vision area representative.
If you'd like to improve your Cabinet Vision skills or learn tips, tricks to improve the quality of your casework projects and work flow, contact me on my website at Craftsman Engineering.  
Video Tags