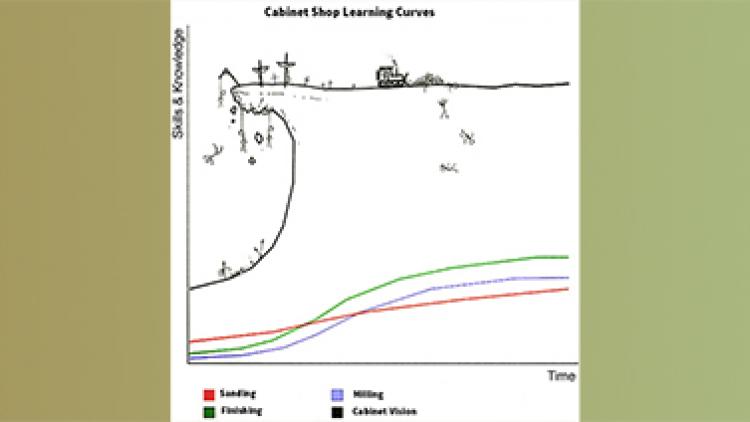 As I talk with cabinet manufacturers all over the country, I get mixed up in a lot of discussions about this feature of Cabinet Vision or that feature of Cabinet Vision.  In just the last two weeks, I've had quite a few inquiries about xBidding.  I'm not sure why. But from my perspective, there seems to be a sudden surge in interest in using the Bid Center.  
Just like you, in any given week, when a potential new client contacts me, I'll get questions about Cabinet Vision that relate to just about every feature or xPick-A-Category you can imagine.  But most questions or conversations I have tend to settle upon procedures or workflow or best practices or "How would you set up..." this or that?  "What do you think about how I set up..." this schedule or that schedule?  
Another interesting trend I've noticed with some of my more well established clients is how much software and layers of workflow they've created for themselves.  One workflow I've heard about from more than a few clients and the workflow that I find most curious goes something like this:  A shop will submit a proposal for a house full of cabinets to a client.  The shop will use some bidding software they developed which is usually some spreadsheet program that they've massaged over the years.  When they win the contract to build the cabinets, the shop will draw the new job in AutoCAD...every room, every elevation, every section, every detail...you name it. ( A variation from one client even involves making 3D renderings in SketchUp ) And that includes hand made materials schedules and specifications.  And then, they'll submit drawings from AutoCAD to the contractor or architect or homeowner for approval.   Once approved, the project is redrawn in Cabinet Vision and then sent to the production floor. 
Why do they submit themselves to so much inefficiency and duplication of effort and potential for error?  Let's sing out the answer all together...ready?  Because that's the way we've always done it!
What is really interesting to me is that these same shops know they are suffering from their own inefficiency, they just don't know how to break the cycle.  And they don't know what they don't know about Cabinet Vision.
I've been asked "Is this a limitation of our knowledge of Cabinet Vision or is this a limitation of Cabinet Vision itself?"  Usually that question is in reference to bidding or drawings or shaping cabinets or...  pick a topic.  I love that question!   Because invariably, the answer is, "Well, Cabinet Vision is designed to do exactly that".  This is about the time I know I'm about to sign a new training client.
I love my job.  I really enjoy helping Cabinet Vision users all over the US and Canada.  It's very satisfying to see the lights go on as a Cabinet Vision user makes a new connection ( pun fully intended ).  
I probably should have said this up front, but the reason I'm writing to you is 1) to introduce myself to you and 2) because I'm a huge influencer with my clients as that relates to their Cabinet Vision purchasing decisions.  And in that regard, you are a beneficiary of those Cabinet Vision purchasing decisions.  My clients are your clients.
Consider the Cabinet Vision user that is still using CV 8 and hasn't been on support in years.  That user presents an opportunity for both of us.  The opportunity for me is that I can teach that shop how to "up their CV game".  And the opportunity for you is pretty obvious.  
Consider the shop that is struggling to find new Cabinet Vision design talent.  They want to hire more engineers and increase the number of licenses but they just can't find resources for training.  Here's another shining example of a mutually beneficial opportunity.
These are only a couple of examples and I see new examples every day.  I help Cabinet Vision users become better at their craft.  I help Cabinet Vision users become more efficient at their craft and in their workflows.  I help Cabinet Vision users make better and more professional presentations to their upstream of CV ( architects, contractors and designers )  and their downstream ( homeowners, cabinet makers, machine operators, and installers )  And the better they are, the more money they make.
My training and consulting rates are competitive.  Training progresses on the clients' own pace.  There is no formal curriculum.  Every client has their own learning style and their own "starting point".  Some are experienced users, some are brand new to Cabinet Vision.  Some clients have 30 designers on staff and others have only one.  Some call me every week and have for years.  Others buy 8 or 12 hours...enough time to fill in their learning void.  
I invite you to have a look at my website to learn a bit more about me, Craftsman Engineering and the services I provide to cabinet manufacturers in the US and Canada.  Leave me a comment on the contact form at the bottom of the home page or contact me directly.  My phone is 916 801-9260 ( Northern California ).  Or you can email me at bchezem@CraftsmanEngineering.com.