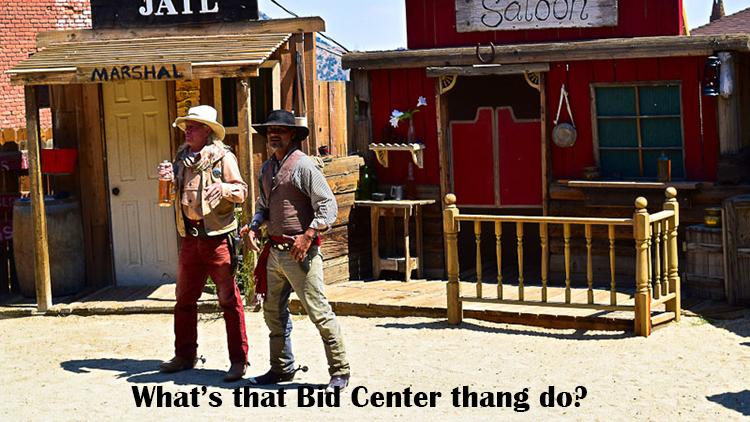 I can't get that theme song to "The Good, the Bad and the Ugly" out of my head.  And now it's in your head.  You're welcome!
Seriously, now.  Can anyone tell me how to use the Bid Center in Cabinet Vision?  I'll bet my pointy toed boots that the Bid Center feature in Cabinet Vision is it's least used and most under rated feature. 
I feel a bit of a rant coming on...
Just the name "Bid Center" is so wrong.  The name "Bid Center" implies the feature will help you figure out a bid for a job...before you draw up the whole job.  Is it just me?  If you have to draw up the whole job before you can get good numbers out of the Bid Center, then why don't they call it the "Did you make any money on the job you built...Center".  Because it's pretty darned good at giving you numbers AFTER you've drawn up a job. I know I'm speaking for you, too, when I say I would like to use the Bid Center for bidding and estimating before I have to spend hours and hours drawing up a house full of cabinets.
I didn't mean to get you all riled up there.  The good news is that I've been noodling on this for quite a spell now and I think I got this Bid Center thing all figured out.  I gotta a real nice solution regardless of the kind of cabinet business you run...commercial or residential.  The Cost-Plus Bid Center data set add on for Cabinet Vision is an estimator's toolbox.  At it's core, the Cost-Plus Bid Center is a collection of seeded rate tables and catalogs designed to help you build professional estimates and project reports.  And it's exclusive to Cabinet Vision and the Bid Center.  The beauty of the Cost-Plus Bid Center is you can use it today - right outta the box.  Think about that for a spell.  You don't have to set up the darn thing.  You just install it and you can start producing estimates lickity-split.  ( That means right now, for all you greenhorns ) 
I completely understand that, for the most part, commercial cabinet shops have a very different estimating workflow than residential shops do.  And I completely understand that there are different kinds of estimates. For example, residential shops get asked all the time, "Can you give me a ballpark estimate to put cabinets in that house there?"  And related to that kind of "estimate" is the "Hey, what's your price per linear foot for cabinets?".  That's my personal favorite - NOT.  
But can Cabinet Vision and the Cost-Plus Bid Center give me detailed, room by room, estimate of a flush inset job with white oak and shaker doors and dovetail drawers with crown molding and granite counter tops and ( I'm running out of selectors )... without drawing up the whole thing?  Yep.
OK then...what if the darned customer changes their cotton-pickin' minds and they want flush overlay instead.  Can Cabinet Vision and the Cost-Plus Bid Center do that?   Yep, again!  In about 3 seconds.   
With the Cost-Plus Bid Center, you no longer have to spend hours or days drawing up a project to finally discover the price to bill a customer.  And what happens if the client rejects your estimate...you've spent all that time drawing up the project.     
Where the Cost-Plus Bid Center really shines is that it unleashes the power of Cabinet Vision's Bid Center to enable you to create complete estimates and project reports in minutes without first drawing up projects.  
Commercial shops sometimes have estimating departments full of people pouring over blueprints and extracting every nuanced detail of a commercial project.  It's tedious, stressful and time consuming.  And, most often, the time spent on estimating is not billable time.  With the Cost-Pus Bid Center, commercial shops no longer have to depend on third-party software or pages of spreadsheets to produce accurate, detailed commercial estimates.  Using the Cost-Plus Bid Center can literally save you hundreds of hours of drawing time on those "Won Bids". 
Residential shops on the other hand, especially custom residential shops, have a much more "sales-centric" approach to their estimating workflow.  A customer for custom residential cabinets might go through several "rounds" of estimating before their contract is signed.  There might be some sort of ball park estimate, and then another detailed estimate before the project is started.  And there might be yet another estimate after the plans are drawn up.  And, as the job progresses, there could be revisions based on change orders or new information.  The Cost-Plus Bid Center gives you the tools to manage all of these estimating scenarios efficiently and quickly. 
The Cost-Plus Bid Center is available for purchase now in the Craftsman Engineering online store.  Have a look at this A Cabinet Vision Minute video about the Cost-Plus Bid Center.