Back in the day, and I'm not quite certain how long ago that was, the state of the art measuring tool for laying out a room full of cabinets was the "storey pole" or some called them layout rods or storey rods.  Whatever the proper name for them really was, they were essentially two long sticks of softwood which the cabinet maker made pencil marks on.  With four sides of a square set of rods, a cabinet maker could layout a whole house full of cabinets...one room on each side of the rod...uppers on one edge of a side and bases on the opposite edge of the rod.
The best ol' story tellers seem to start their tales off with "Back in the day".   Maybe that'll improve my crusty ol' story...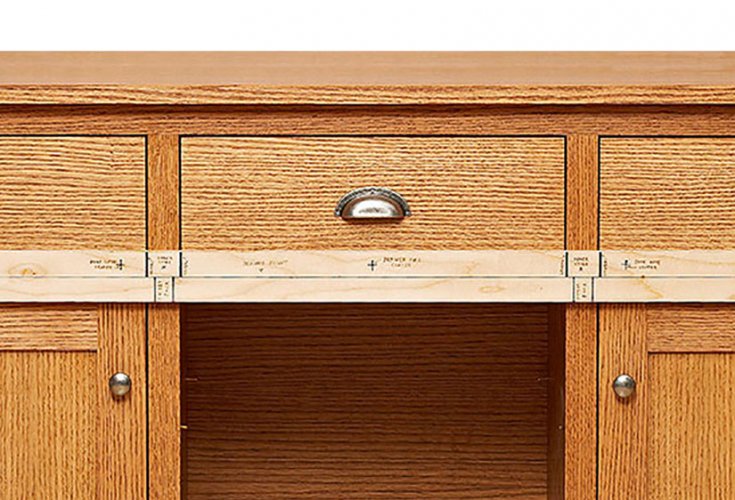 When the cabinet maker returned to the shop, he'd use the storey poles as a set of blueprints of sorts to make sketches and cutlists right from the storey poles.  Once the cutlist was drawn up, the cabinet maker would head off to the nearest lumber yard and load up the truck with all the supplies for that project.  This method certainly works but its certainly not scalable.  Can you image a shop with 75 employees, a beam saw, CNC routers, with frameless construction using storey poles?  Me neither.  
At my first cabinet business, I used storey poles, doweled face frame construction, and I made all of my doors in-house...all 8 or 10 styles! 
It all seems like a fairy tale now to think back on those days.  But that was the state of the art. 
To be competitive in these modern times... ( oh geez, I  sound like my grandfather ) computerized everything is the only way to fly. 
At Craftsman Woodworks Engineering Servcies, I create drawings using software peculiar to the cabinet manufacturing industry.  My tool of choice is Cabinet Vision.  Most of my competitors in the Shop Drawing Submittal business use AutoCAD as their tool of choice.  Not that there's anything wrong with AutoCAD....I'm not knocking it in the slightest.  I use Cabinet Vision because its the right tool for the right job.  You've heard that a million times in this business and its true.  When it comes to preparing shop drawings, submittal drawings, reports for production, materials lists, job costing, cut lists, labels, communicating with equipment, photo-realistic renderings etcetera etcetera, there is no comparison.  Cabinet Vision does all of these necessary functions and more.  For me, its a no-brainer...Cabinet Vision is my tool of choice.  
When I was IT manager for a large custom cabinet manufacturing company, my colleagues told me about OnCenter Software's FREE Electronic PlanViewer.  OnCenter Software makes some great software for the construction trades.  For me, however, their FREE Electronic PlanViewer is perfect for my needs.  With it, I can open a PDF file or DXF file and get all my takeoffs with scaled precision.  It also has some great highlighting tools so I can keep track of the objects I'm drawing.
Another must-have is PDF printing software.  A PDF creator is essentially a virtual printer.  Instead of printing to an actual printer onto actual paper, PDF printing software gives you the ability to print to a file.  You select the paper size...the same size you specified in Cabinet Vision...and the software creates a PDF file which is like any other PDF file.  There are dozens available for free.  Google it.  I use PDFCreator, but they all do essentially the same thing.  Make sure you pick one that will accommodate all the different paper sizes from plain ol' 8 1/2 X 11 up to Architectual "E" size. 
And don't forget to blow out the oil lamp before you go home tonight!